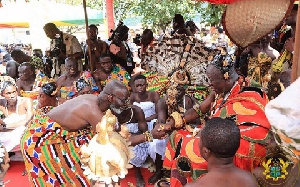 Two sons of Okyeman, Nana Asante Bediatuo, Secretary to the President and Gabby Otchere Darko, an investment lawyer, paid homage to Asantehene Otumfuo Osei Tutu II during the 75th anniversary of the death of the former Okyenhene Nana Ofori Atta I, at Kyebi on Thursday.
The event, which was attended by dignitaries in the country and beyond, was also used to deepen relations between Asanteman and Okyeman.

Otumfuo, who was the special guest of honour for the colourful traditional programme at Kyebi for the first time in some months, was seen shaking hands in public with Nana Asante Bediatuo and Gabby Otchere Darko who he (Otumfuo) recently accused of sabotaging him.

The Asantehene's decision to allow Nana Asante Bediatuo and Gabby Asare Otchere-Darko to pay homage to him in public was a clear indication that he had pardoned the two personalities.

Otumfuo's Complaint

It would be recalled that two gentlemen, who are relatives of President Akufo-Addo were recently accused by the Asantehene for using political power to work against his interest.
Otumfuo's complaint quickly compelled New Patriotic Party (NPP) gurus that had travelled to the Manhyia Palace in Kumasi to pay homage to the Asantehene to go down on their knees to beg him.



General Secretary, John Boadu, Bernard Antwi Boasiako, aka 'Wontumi,' Simon Osei-Mensah, among others, were present at the event.

The peace process was initiated by Nana Asante Bediatuo, who whispered into the ear of Okyenhene, Osagyefuo Amoatia Ofori-Panin, few moments after Otumfuo and Okyenhene shook hands.

The Okyenhene, who served as the peacemaker, whispered to Asantehene, who suddenly burst into laughter and stretched his hand to shake the sober Nana Asante Bediatuo.
Moments after the Okyenhene had officially welcomed Otumfuo to Kyebi, Nana Asante Bediatuo and Gabby Otchere-Darko paid homage to the Asantehene, who was beaming with smiles.

Some members of the Asantehene's entourage later told DAILY GUIDE that Mr Otchere-Darko and Nana Asante Bediatuo are children of Otumfuo so he has nothing against them.