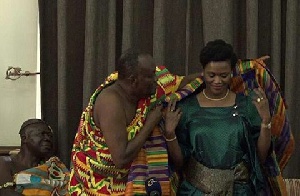 The Asantehene, Otumfuo Osei Tutu II stole the show in Uganda over the weekend with the royal horns of Asanteman which were manufactured several years ago.
Otumfuo Osei Tutu, who is in Uganda as the special guest of honour for the 25th anniversary of the Kabaka of Buganda Kingdom, Roland Muwenda Mutebi II, made an lasting impression on many people in the country.

Some servants of the Manhyia Palace in Kumasi, who were part of the entourage of the Asantehene, used their horns to produce some melodious traditional Asante tunes to herald Otumfuo from a private jet.

All activities at the Entebbe International Airport came to a standstill, as staffers at the airport and travellers alike rushed to the place to catch a glimpse of Otumfuo and his entourage.

Otumfuo was accompanied to Uganda by Nana Otuo Serebuo, the Asante Juabenhene, who is also the Chairman of the Council of State, prominent chiefs in Asanteman and servants at the Manhyia Palace.

At the Entebbe International Airport to welcome the Asantehene and his royal delegation to Uganda were the Prime Minister of Uganda, Charles Peter Mayiga and some top government officials.

High-ranking officials from the Buganda Kingdom were also at the airport to give the Asantehene, who is the 16th occupant of the Golden Stool, a rousing welcome.
The delegation that welcomed the Asantehene at the airport was equally thrilled with the spectacular cultural display by their august visitor and his delegation.

The elated Prime Minister Charles Peter Mayiga, in a brief speech at the airport, stated, "We are very hopeful that Otumfuo's stay will be a pleasant one and cement the relations between the two kingdoms."

According to reports, the Asantehene's long convoy caused vehicular and human traffic right from the Entebbe International Airport to the royal palace of the Kabaka as people trooped to the roadside to catch a glimpse of Otumfuo.

He later met the Kabaka of the Buganda Kingdom, Roland Muwenda Mutebi II at the royal palace where they exchanged gifts during the meeting.

During his five-day visit to Uganda, the Asantehene would meet President Yoweri Museveni in Kampala, the capital of Uganda where the two would hold talks to deepen relations between Ghana and Uganda.