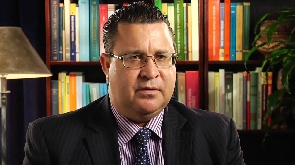 The country director of Word Bank to Ghana, Pierre Frank Laporte, has said that the bank does not feel that the over $430 million it gave to the government of Ghana to fight Covid-19 was misused.
According to him, the fund his outfit gave to Ghana was managed by a project team made up of officials of the bank and the government of Ghana and was not included in the budget of Ghana.

Speaking in a TV3 interview monitored by GhanaWeb, Laporte added that the team managing the funds ensured they were used for their intended purposes and paid directly to contractors.

"We have given $430 million to Ghana for Covid. Our project funds have not gone to the budget of the Ministry of Finance, and because of this, we've mechanisms in place that ensure we know each and every dollar that is spent and accounted and we've done audits.

"Of course, there are always a few things here and, procedure-wise, maybe some documentation that needs to be followed.

"But largely speaking, we are very satisfied that all of our resources were spent in line with the procurement requirements that existed. You know, COVID-19 was implemented under emergency procurement measures by the bank," he said.

The director said that the money given to the government of Ghana is still being used, adding that the bank was working to make more funds available.
Watch the interview below:


World Bank gives thumbs up to Akufo Addo's government competent use of Covid funds. I hope ex prez @JDMahama is watching pic.twitter.com/RavcjjPLVB

— Faruk Tema (@TemaFaruk) June 3, 2023
Meanwhile, watch a snippet of GhanaWeb TV's latest program that focuses mainly on Everyday People below:
You can also watch the latest episode of People & Places on GhanaWeb TV:


IB/WA