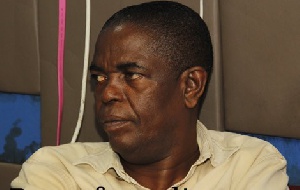 Sat, 26 Apr 2014 Source: peacefmonline
"Look at the unnecessary panic and the anxiety the business community has gone through; not just because of poor communication, but clear inefficiency and lack of commitment to duties… This should not have happened…common sense has become a major problem for our leaders" asserts Managing Editor of The Insight newspaper, Kwesi Pratt Jnr.
The renowned journalist was speaking to the issue of the brouhaha over the 17.5% Value Added Tax placed on services rendered by banks and other financial institutions.

When news broke out about the new tax which was expected to be implemented in May, agitation hit the business community regarding what could likely become of their savings at the banks.

The panic and tension continued building up until the Finance Ministry issued a statement signed by one of its deputies, Cassiel Ato Forson, explaining that the new tax was not going to affect salaries, savings, deposits, loans and payment with cheques.

But the seasoned newspaper editor believes had this information been channeled out earlier, the panic and the controversies would not have arisen.
"It will not be surprising that many people would have taken their monies from the bank due to these controversies; all because of lack of communication. I don't understand why they treated this so sloppily."

He told Kwami Sefa Kayi that he heard of the 17.5% VAT about three months ago, "and so what was the Deputy Finance Minister doing all this while".

"Where from the controversies if what the deputy finance minister said is anything to go by? It means something has gone wrong and this is due to extremely poor government communication. The more we talk about it the worse it becomes. Why did the Deputy Finance Minister wait three months before coming out with an explanation if what he said is true? Why is communication in this government so bad especially under someone considered to be a communication expert?" he quizzed.
Source: peacefmonline