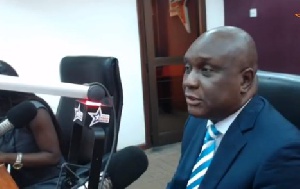 The Executive Director of uniBank Ghana Limited, Clifford Mettle has dismissed as factually inaccurate claims by the management of Korle-Bu Teaching Hospital (KBTH) that the bank's operations are hurting the facility.
According to him, the operations of the bank at the KBTH were rather aimed at streamlining revenue collections there and also afford it the ability to have its billings electronically.

"We have done that and it is working perfectly," Mettle told host of Morning Starr Francis Abban, Monday, October 2, 2017.

He continued, "We are an indigenous bank. We are a local bank working for national development. We will not do anything to hurt government institutions. We have been doing certain things on our own without any prompting."

"Therefore, for somebody to say that our operations are hurting [Korle Bu] because he is basing that on a previous report that they have had on our previous engagements with other hospitals, I don't think that is a fair statement at all. And we want to debunk that in its entirety. We are doing what we are supposed to do. We have not breached anything, everything is ethical and above board," he added.

Meanwhile, a former board chairman of the Korle Bu Teaching Hospital Prof. Anthony Sallah has said the decision to include uniBank in revenue collection was to ensure that a local interest was protected.
According to him, the two banks collaborated effectively to rake in more revenue for the hospital when they started operations.

"As management, we wanted a Ghanaian bank to be on board. I was not happy we had just foreign banks on board. We charged management to get some local banks as well.

"During our time, there was no sabotage between the two banks. When Stanbic Bank and uniBank started the revenue collection, we had a lot of money. With the monies we collected, we were able to pay off some of our debts," he told the Morning Starr.