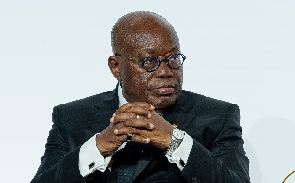 President Nana Addo Dankwa Akufo-Addo has lamented the current state of the world, decrying the rising spate of mistrust and unhappiness.
He also spoke extensively about the challenging economic times as well as the coup contagion in the West Africa region among others when he took his turn to address the 78th United Nations General Assembly.

Very early on in his over 17-minute address, he alluded to the world in its current state being an unhappy place.

"I do not need to employ any hyperbole, nor find any fancy words to state the reality of the situation humanity currently faces. Our world is not a happy place today.

"Wherever we look, and in whichever area of our lives to which we turn our attention, there is unhappiness, distrust and loss of confidence in the structures that have guided the governance of the world since the end of the second world war, nearly eight (8) decades ago," Akufo-Addo stated.

Presidents and other heads of government are in New York for the 78th Session of the UNGA, during which time they speak to local, subregional and global issues.

Akufo-Addo according to GhanaWeb checks was the 8th president on September 20, to deliver his address, after among others African counterparts like Seychelles, Rwanda, Namibian presidents.
The theme for the 2023 General Debate is: "Rebuilding trust and reigniting global solidarity: Accelerating action on the 2030 Agenda and its Sustainable Development Goals towards peace, prosperity, progress and sustainability for all".

Click here to start the nomination process for the 2023 GhanaWeb Excellence Awards

Ghana's leading digital news platform, GhanaWeb, in conjunction with the Korle-Bu Teaching Hospital, is embarking on an aggressive campaign which is geared towards ensuring that parliament passes comprehensive legislation to guide organ harvesting, organ donation, and organ transplantation in the country.

You can also watch this episode of People & Places on GhanaWeb TV: