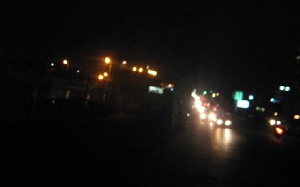 A massive blackout on Tuesday left several homes without electricity in parts of Ghana, especially in Kumasi, the Ashanti Regional capital – after an unannounced failure in the country's interconnected power grid.
Authorities were scrambling to restore power but only a few suburbs had electricity back by the early afternoon local time.

Many residents who have described the development as unbearable are asking whether Ghana is heading back to 'Dumsor' — a popular term used to describe incessant power supply.

Others have also linked the development to a planned strike by power producer GRIDCO.

"Gridco has had challenges leading to outages in the region. We are waiting earnestly for them to be able to restore supply. Please bear with us," a terse statement from Erasmus Kyere Baidoo, PRO for ECG in Kumasi said.

NEDCO also issued a statement on the development.
UNPLANNED OUTAGE TO MIDDLE AND NORTHERN GHANA

The Management of NEDCo wishes to inform the General Public that GRIDCo has reported a challenge resulting in a complete power outage to all Bulk Supply Points (BSPs) in the Middle and Northern parts of Ghana.

Consequently, GRIDCo is working on the cause for possible fixing and eventual restoration of power.

Any inconvenience caused is deeply regretted.

ISSUED BY CORPORATE COMMUNICATIONS, NEDCo, TUESDAY, NOVEMBER 26, 2019