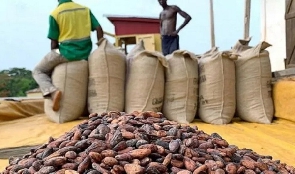 An anti-smuggling task force of the Ghana Cocoa Board in collaboration with the security agencies has intercepted a total of over 1500 bags of cocoa being smuggled to other countries within two weeks.
According to the Director of Special Services at COCOBOD, Charles Amenyaglo, the intercepted beans were been brought in from the Western North and Volta regions.

The smuggled goods were then intercepted in the Greater Accra, Volta, and Western North regions during the transit.

A Finder report noted that in the Greater Accra region, the Mamprobi Police Unit on March 6, following a tip-off intercepted 508 bags of standard cocoa beans and 72 bags of cocoa waste beans which were transported from Sefwi Bekwai in a Howo Truck with registration number GS 854-21.

The report further noted that when the driver, Abdul Rahman Amadu was interrogated, he alleged that he was contracted at a lorry station to load the cocoa beans to Accra.

He has, however, been granted bail with one surety each and is to reappear before Circuit Court 6 in Accra on April 13.
The intercepted beans were however been handed to COCOBOD the next day to prevent deterioration.

"The beans were not thoroughly dried before they were transported and some were drenched in rainwater through transit. We had to immediately evacuate them to our Take-Over Centre at Tema for drying, reconditioning, and rebagging," Charles Amenyaglo was quoted by The Finder.

The other bags intercepted included 511 bags of good cocoa beans, which weighed 64kg per bag, 123 bags of waste cocoa beans weighing 50kg per bag, and, 406 bags of cocoa beans.

The Taskforce also saved about 399 bags of cocoa beans from smugglers who were carting them from Dunkwa-on-Offin and Sefwi Bekwai in the Western North region to the Ivory Coast on March 13.

"The trucks with registration numbers, AS 885 – 19 and AS 7457 – 17 have been impounded while the drivers have been granted police inquiry bail pending further investigations," the Finder report noted.
Watch the latest edition of BizTech and Biz Headlines below:







Watch the latest edition of Business Moments below:




SSD/FNOQ