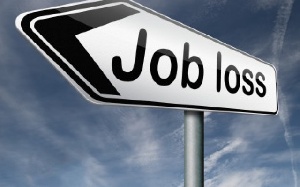 The Centre for Socioeconomic Studies (CSS) has said over one million Ghanaians have lost their jobs since 2017.
"The CSS, from its study of the situation, found that over a million individuals who contributed significantly to Ghana's workforce and also served as breadwinners in their families have had to suffer the misery of job loss," the Centre said in a press release Monday.

Citing a 2017 report, the centre said the job cuts span the industrial, banking and mining sectors as well as the media and services sectors.

"The socioeconomic impact of these significant job losses on the general economy implies that well over three million livelihoods have been adversely affected given that one job loser can be said to have two dependants, though the empirics could mean worse," the centre said.

"This also has serious implications for individuals or businesses that provide support services to sectors in which the job cuts are occurring. The overall effect is, aggregate demand is adversely affected, explaining the wave of hardship lamentations being expressed by individuals and businesses across the country. Government revenue performance targets cannot also be met on account of these facts."

Phenomenon disastrous

Barely two years into the four-year term of the governing New Patriotic Party (NPP) under President Akufo-Addo Ghanaians have witnessed several job losses, the latest being over 1500 workers in the country's brewery sector.
"The status quo has disastrous social implications for crime and security. As the legitimate expectations from expected long-term stable employment rapidly fade away, the level of frustration of the individuals increases.

"Further, as the expectation from government to take care of or lessen the impact of the situation increases and the failure of government to provide the needed social protection, individuals, especially the youth, as is often the case, are compelled to resort to crime and other illegitimate modes of registering their frustrations.

"Recent attacks and chasing away of government officials are a direct consequence of the stated crisis. If nothing is done to abate or reverse this vicious trend, such attacks may become the rule (rather than the exception)," the centre warned.

The way forward

The CSS thus believes, among others;

"Government spending should adequately respond to sustainable job creation, given the presently low levels of investment in productive capacity evidenced in the high recurrent expenditure trends against significantly low capital expenditure.
"Government should reconsider its approach in the financial sector crisis management, by adopting a "Stakeholder Approach" that effectively meets the needs of potential job losers, shareholders/investors in indigenous and rural banks as well as the interests of depositors.

"Government should review tax thresholds downwards in the 2019 budget to mitigate the hikes in prices resulting from excessive taxation of goods and services at the ports of entry and points of sale in the country.

"Government should awaken itself to the reality that the attacks and assaults on government officials are serious national security threats arising from the current economic hardships outlined above and could see a nationwide escalation.

"Whiles doing all these, the CSS urges the government, as a matter of urgency, to start putting social protection programs in place to alleviate the serious suffering of the people."