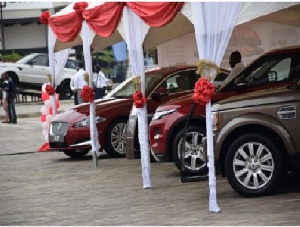 Fri, 21 Apr 2017 Source: Ebenezer Asare Amanquar
The second edition of the "Junction Auto Show" would showcase over 50 cars from over 15 brands plus some of Ghana's finest and rarest classic cars from April 28-30, 2017 at the Junction Shopping Mall at the Nungua Police Barrier.
The Junction Auto Show will also feature other Automotive establishments offering various services ranging from Auto loans, insurance, car care services, lubricants, accessories and parts and many more. The show would be interspersed many fun activities ranging bumper car, water fun park, display by much loved cartoon characters, live rendition of popular tunes, free car wash and a test drive of various cars with your favourite celebrities.

Exhibitors will offer tips on the best way to acquire your dream car, desired insurance, maintenance and servicing requirements, road safety, safe driving skills and how to simply make your car serve you better.

There will be a food bazaar at the food court to offer patrons sumptuous meals of their choice. Patrons are Guaranteed a very packed long weekend with unbridled fun and activities.

The Junction Auto Show, presented by The Junction Mall and Mad Car Disease (MCD) and supported by the Multimedia Group (Joy fm, Joy business, Myjoyonline, Joy Prime), is taking over the car park of The Junction Mall, situated right at the Nungua Police barrier from Friday, April 28 to Sunday, April 30, 2017. The event opens at 10:am each day and will continue till 9:00pm.

Automobile enthusiasts, passionate lovers of cars and those with uncompromising quest for Auto shows would have their thirst overwhelmingly satisfied with the amazing display of assorted models of automobiles ranging from SUVs, Salons, luxury cars, convertibles and other top range cars.

Between the unique open air cinema that will showcase some of MCD's Newspress footages and movies, the ladies car wash, the bumper cars, Sunday Omotuo Special courtesy of Shaka Zulu Restaurant, test drive and the plethora of family-friendly activities, every car lover will be entertained to their hearts content. The crown jewel of the show, however, is the Mad Car Drive – a catwalk of some of the most remarkable and beautiful automobiles ever made.
On display will be vehicles representing all brands of automotive history including cars presented by private collectors and some of Ghana's best car clubs. These extraordinary vehicles and more will all be available for viewing at the 2017 MCD Junction Auto Show 2.

Expected Brands:

1. PORSCHE

2. FORD

3. MERCEDES

4. TOYOTA
5. LEXUS

6. HONDA

7. RANGE ROVER

8. JAGUAR

9. NISSAN

10 INFINITI
11. KANTANKA

12. HYUNDAI

13. KIA

14. VOLKSWAGEN

15. AUDI

16. BMW
17. APSONIC

Mr Ebenezer Asare Amanquar, Centre Manager of the Junction Mall, a passionate fanatic of autos himself, indicated that the maiden edition of the show held between February 23 and March 1, 2015 exceeded the expectations of exhibitors and visitors to the show. He promised exhibitors and visitors to this year's edition a bigger and better Auto show.

He asserted "The love for cars is a disease" and urged everyone to come and check their level of infection at this year's Junction Mall Auto Show. According to him, the ownership of vehicle is no more a luxury and has become a basic necessity for effective living in the city. The Mall is thus organising this show to offer its patrons the opportunity to acquire vehicles with utmost ease. This informed their decision to bring together the various players in the Auto industry; insurance companies, Auto finance companies, Service and maintenance companies, spare parts and accessories dealers, car care companies and many others. Patrons would have the rare opportunity to interact with all these companies under one roof amidst fun parked activities. The main media partner for the event, Joy fm, would transmit most of its flagship programmes live from the Junction Mall during the event. Patrons would have the chance to interact with the presenters and staff of the station. Patrons would also have the chance to test drive their dream cars with some celebrities and presenters of the station.

A vibrant exhibit floor will showcase all makes and models of cars. Car enthusiasts will also be able to explore the latest products and services needed to keep on motoring.
Source: Ebenezer Asare Amanquar