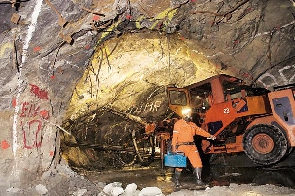 Over 40 illegal miners who unlawfully entered AngloGold Ashanti underground mines at Obuasi have been arrested arrested by the Police Tuesday.
EIB Network's Ashanti Regional correspondent, Isaac Bediako reports that about 20 of them have so far been granted police bail.

About 300 illegal miners were reported to have been trapped in one of the shafts belonging to mines at Anwiam in the Obuasi East District of the Ashanti Region.

The miners are said to have entered the underground shaft in search of gold deposits last week but were unable to come out after all exit routes were closed.

But Management of Anglogold Ashanti, Obuasi Mine in statement clarified that unauthorized persons underground are able to exit on foot, via the existing ramp, through the main access of this mining area.
"No person underground has been confined in any way and the main exit ramp from the mine remains open. Obuasi Gold Mine's management team has notified the relevant authorities and public security services and is working closely with them."

It added that "Yesterday, seven illegal miners exited through this main access point on foot and are in the custody of the Ghana Police Service. Any unauthorized person underground is encouraged to leave the mine at any time by the exit points where public security personnel remain on standby."

Anglogold Ashanti Management noted that intrusion of illegal miners into underground areas remains a significantly dangerous activity and that management is working alongside authorities to ensure that only authorized mine personnel and contractors can access underground work areas.

"The safety and security of our employees and community members remain our top priority and AngloGold Ashanti Ghana stands ready to provide any assistance required by the authorities in ensuring the safe exit of any unauthorized persons underground," the statement stressed.