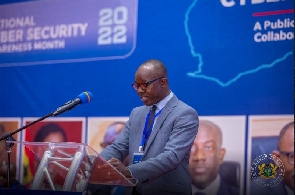 Individuals targeted by online impersonation have suffered significant losses valued at GH¢49.5million since the beginning of January 2023, according to the Cyber Security Authority (CSA).
Online impersonation or identity theft occurs when a malicious actor assumes the identity of a prominent personality such as a politician, businessman, government official, diplomat, or a credible brand for financial gain or to harass, intimidate or threaten victims.

In an official public alert, the Cyber Security Authority (CSA) disclosed that between January and July 2023 it received a total of 58 reports related to online impersonation – resulting in a distressing loss of as much as GH¢49.5million suffered by the victims.

This is coming on the back of a joint technical task force raid comprising the Economic and Organised Crime Office (EOCO), Bank of Ghana (BoG) and Cyber Security Authority (CSA) on illegal lending apps at three separate locations in Accra. The operation led to the arrest of 422 suspects. The task force had meticulously investigated 270 cases involving cyberbullying, fraud, extortion and customer data abuse.

As a result of these extensive investigations, 150 unlicenced digital loan application platforms were identified. The owners or administrators of these platforms are said to be engaged in alarming practices – including the use of death threats and unauthorised distribution of private messages, images and videos.

These actions were primarily facilitated through the misuse of authorised permissions granted by unsuspecting victims who innocently used their digital platforms.

Modus operandi
Based on the alert, impostors utilise deceptive tactics by creating fake profiles or accounts that imitate genuine personalities or well-known brands. They employ pressure strategies to compel their unsuspecting victims – including associates and business partners – to act hastily without careful consideration, as highlighted by the CSA.

Online impersonation can manifest in various forms, such as job/recruitment scams. In this scenario, scammers may pose as government officials/agencies or reputable employers/ recruiters, offering enticing job opportunities that require victims to part with money or divulge personal information.

Another prevalent scheme is advance fee fraud, wherein scammers masquerade as wealthy businessmen, representatives of reputable companies, government agencies or long-lost relatives. They persuade victims to make upfront payments for goods, services or financial gains that never materialise.

Additionally, there is the investment scam wherein impostors present themselves as investment service providers, financial advisors, or fund managers. They make enticing promises of significant profit with little to no risk, which in reality are mere ploys to swindle victims.

Lastly, contract scams involve scammers posing as contract-awarding bodies; often masquerading as representatives of government agencies. They then entice victims with the promise of non-existent contracts, demanding a fee in return for this imaginary opportunity.

Recommendations
The CSA is therefore urging the general public to be cautious of unsolicited communications, especially from unknown individuals/sources.

"Be suspicious of any promise of jobs, protocol advantage for recruitment slots, financial gains, gifts or lucrative opportunities. Genuine government officials would not contact anyone via social media to offer them a job or contract," it said in the alert.

It further urged the public to exercise due diligence and conduct extensive background checks to verify the legitimacy of an individual or organisation/institution before engaging in any financial transaction.

The public is also admonished to always report a suspected impersonator/scammer to law enforcement agencies within the country or report to the CSA's 24-hour cybersecurity/cybercrime incident-reporting points of contact (PoC) for reporting cybercrimes and seeking guidance and assistance on online activities.