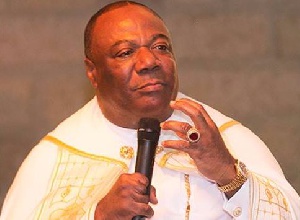 Archbishop Nicholas Duncan-Williams has said owning a private jet is not a problem for him.
According to him, there is nothing wrong with being rich but "how you get it, what you do with it" are the two things one will be judged for.

To this end, the General Overseer of Action Chapel Ministries said he believes owning a private jet like some of his contemporaries such as Pastor Ayo Oritsejafor of the Word of Life Bible Church (Nigeria), Bishop David Oyedepo of the Faith Tabernacle (Nigeria), Enoch Adeboye of the Redeemed Christian Church of God (Nigeria), Prophet Shepherd Bushuri of the Enlightened Christian Gathering (Malawi) among others do, is not wrong, although he is not excited about owning a private jet.
Speaking to Bola Ray on Accra-based Starr FM on Wednesday, 23 August, Archbishop Duncan-Williams said: "I have people I've trained who are sons of mine who have private jets in Nigeria and owning a jet is not a problem. It's not about affording it, apart from it being a gift, there are some networks in America where you can be part of some arrangement where you can have a jet at your disposal, maybe 10 or 12 times in a year and you pay some fee and maintain it and everything.

"But to own a jet in this country, Ghana, and the economy and our way of thinking, it's going to take a lot of innovative thinking because the maintenance is more expensive. Paying your crew and ground fee is a lot so it's not something that I'm excited about. I have used jets several times, I have friends who sometimes will lend me their jets and I use it and it's great and good."