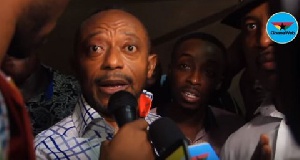 Founder and leader of the Glorious Word and Power Ministry, Isaac Owusu Bempah, has taken a strong swipe at the founder and leader of Glorious Waves Chapel International, Prophet Emmanuel Badu Kobi.
According to the controversial prophet, his fellow man of God "has no sense." Rev. Owusu Bempah's comment came after Prophet Badu Kobi indicated that the decision to elect Nana Addo Dankwa Akufo-Addo as president of Ghana is the genesis of all the problems Ghanaians are encountering now.

"Are you sure he said what you are saying? Are you sure" Owusu Bempah asked Kofi Adoma of Kofi TV who replied in the affirmative.

"If he said that then he doesn't have sense. I thought he has gone to school so he has sense."
He continued, "No sensible person will say what he has said. Did anyone remove Mahama or Mills because of hardship? He can't say that. So now he has become Mr writer. Even if the constitution is bogus, that's what controls him," Owusu Bempah said.

Rev. Owusu Bempah is known for his political prophecies.

Prior to the 2016 election, he prophesized that then candidate Nana Addo Dankwa Akufo-Addo will become president.