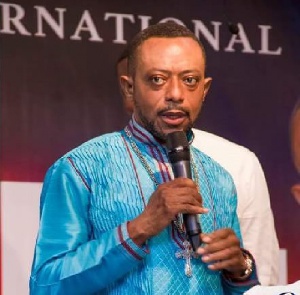 Member of the Islamic Peace Council, Sheikh Aremeyaw Shaibu has observed that controversial leader of the Glorious Word and Power Ministry, Rev. Isaac Owusu Bempah is being given prominence he doesn't deserve.
According to him, death is not in the command of any living being, hence the death prophecies by the man of God should be disregarded.

"Death does not lie in the mandate of any living being to pronounce (Quran chapter 3 vrs 145)''he quoted.

"I heard and read about Owusu Bempah's prophecies on social media. I discussed it with my children and told them we shouldn't take them serious,'' he advised.

Leader of the Glorious Word and Power Ministry, had predicted on New Year's eve that some Ghanaian leaders including the 99-year-old chief imam, Sheikh Nuhu Sharabutu, Vice President Dr. Mahamudu Bawumia and former President John Mahama will die this year.

Following this pronouncement, some youth on the 2nd of January 2019 stormed his church premises at Ordorkor and vandalized some properties.

But speaking on TV3's NewDay, Sheikh Aremeyaw Shaibu wants the media to rather promote utterances of leaders whose messages inspire the youth.
"If messages have no role in helping society develop then they have no relevance,'' he added.

He suggested that it would have been "more sensible" if Owusu Bempah had walked to the chief imam with his message even though the "Chief Imam is not waiting for someone to announce his death to him".

The Muslim cleric noted that Rev. Owusu Bempah has "succeeded in exploiting the political space", which he said has given him the impetus to go on with his doomsday prophecies that many have condemned and described as unfortunate.

Meanwhile, the National Chief Imam, Sheikh Osman Nuhu Sharabutu, Wednesday urged Moslems in Ghana and beyond to shun any action that would undermine the peace of the nation and bring the image of their faith into disrepute.