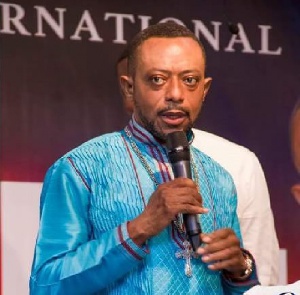 The Founder and leader of Glorious Word Power Ministry, Prophet Owusu Bempah lost his cool in the studios of Accra based radio station when he was there to answer questions about allegations that he's a member of an occult group.
The man of God got furious after he felt the host of the programme was diverting from the main reason he was at the station and was asking unnecessary questions.

According to Owusu Bempah, he was at the studios to meet Evangelist Dominic Appiah who was at the same radio station earlier to accuse Owusu Bempah of belonging to an occult group.

"I didn't come here to be interviewed and asked silly questions. You are acting just like Satan tempting Jesus to turn stone to bread. I am here for that Dominic guy who claims I belong to an occultic group. You just can't bring people here to tarnish my hard-earned reputation. I came here to meet him", he angrily said

The man of God stormed out of the studios furiously and ended up destroying a laptop and some few equipment.
In August 2011, the founder and leader of God's Way International Church, Bishop Daniel Obinim also destroyed several equipments of this same radio station following an alleged sex scandal involving Obinim and also discussed matters relating to his wife Florence Obinim.

This infuriated the man of God and stormed the radio stations with his men with a crowbar and destroyed properties.