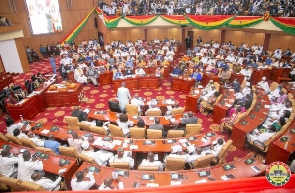 The Public Accounts Committee (PAC) of Parliament has requested the Ministry of Foreign Affairs to provide further details on how government incurred an extra GH¢6.5million cost on the rehabilitation of Adu Lodge Guest House.
In March 2007, following approval from the Ministry of Foreign Affairs, Architectural and Engineering Services Ltd. (AESL) awarded a contract for the rehabilitation of Adu Lodge Guest House to International Development Resources at a contract sum of GH¢1.4million to be completed in five and half months.

The project was however abandoned and revisited in 2017 – causing the contract amount to be revalued from GH¢1.4million to GH¢7.9million, with the rehabilitation work expected to be completed and handed over to the Ministry in 2019.

PAC, in examining findings of the 2020 Auditor-General's report on the Public Accounts of Ghana: Ministries, Departments and other Agencies, which revealed that government paid a sum of GH¢7.9million for the rehabilitation of Adu Lodge Guest House instead of the initial contract price of GH¢1,435,729, demanded that the ministry provide further details on how the project jumped by GH¢6.5million.

Although the ministry had as at June 2020 – after 13 years – paid GH¢7.7million of the contract sum for GH¢7.9million, inspection of the facility by the Auditor-General Department on 31 August 2020 revealed that the contractor had failed to complete and hand over the building to the ministry.

"We urge management to cease further payments on the building till the project has been fully executed and handed over to the ministry. We also recommend management to ensure that liquidated damages for the delay as enshrined in the contract agreement are enforced to serve as a deterrent," the report stated.
However, Director of Finance and Accounts at the ministry, Kinsford Amoako – who appeared before the Committee in Accra, said the project after it was abandoned and revised in 2017 has since been completed and handed over to the ministry on the 29th October 2021.

"The contract was awarded in 2007. I think it was abandoned just after 2008 for about eight years or so; it was abandoned and then resurrected somewhere in 2017, hence the revaluation. Obviously, a contract that was awarded 7 years back will naturally not go for that GH¢1million or so that it was awarded," he justified.

Despite the Committee's insistence on reasons for abandoning the project for years and later revisiting it, officials of the ministry failed to provide an explanation.

As a result, the Committee – chaired by James Klutse Avedzi and with Samuel Atta-Mills as Vice Chairperson – directed the ministry to submit details of the contract and reasons that led to the astronomical rise in the contract amount over the period.