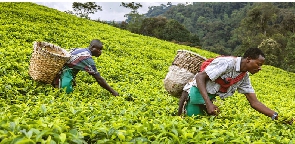 Sat, 30 Sep 2023 Source: GNA
The Peasant Farmers Association of Ghana (PFAG) has called on the government to speed up the actual implementation of phase two of the Planting for Food and Jobs programme (PFJ 2.0) to enable farmers to benefit from it to increase food production in the country.
Dr Charles Nyaaba, Executive Director of PFAG, who made the call, demanded that the government should also come out with guidelines on accessing the benefit packages under the PFJ 2.0 for farmers to know how to benefit from it.

He was speaking at a workshop organised in Tamale by PFAG in collaboration with the Ministry of Food and Agriculture (MoFA) and the Africa Continental Free Trade Area (AfFCTA) to sensitise farmers and aggregators on the PFJ 2.0 and the AfFCTA.

The day's event, attended by some peasant farmers and aggregators from the northern sector, was also to build their capacity on quality, standards, and packaging, to amongst others, benefit from the AfCFTA initiative.

Participants were taken through the modalities of PFJ 2.0, an overview of AfFCTA and opportunities for farmers and aggregators, training on post-harvest losses management, quality, and standards for agro-based industries.

The government launched the PFJ 2.0 this year to ensure that farmers received inputs on credit and paid back after harvest.

Dr Nyaaba said although the PFJ 2.0 was launched, actual implementation had not started as farmers were yet to benefit from the initiative.
He said farmers were yearning for the inputs to increase their production to ensure food security.

He raised called on the government to withdraw taxes on agro-inputs and machinery to reduce cost of agricultural production in the country.

Mr Nyaaba called on the government to stop dealing with social media farmers and reach out directly to farmers on the field to achieve the desired results.

Mr Charles Ayeboro, an official from MoFA, who represented the Minister for Food and Agriculture during the event, said the seeming delay in the implementation of the PFJ 2.0 was because a lot of measures were being put in place to ensure successful implementation.

He urged all farmers to participate effectively and honestly in the implementation of the PFJ 2.0 to ensure success.
Source: GNA