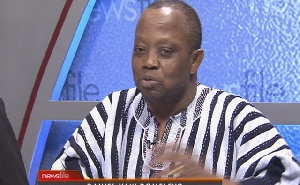 The Public Financial Management (PFM) Network Ghana has called on President Akufo-Addo to intervene in the impasse between Mr Daniel Domelevo, the Auditor-General and the Board Chairman of the Ghana Audit Service Dr Yaw Agyeman Duah.
"The PFM is deeply concerned about recent developments at the Audit Service and its implication for good corporate governance vis-à-vis the mandate of protecting the public purse, for the Auditor-General and the Chairman of the Board to be trading such allegations and counter-allegations in the manner and form it has taken gives a cause to worry".

A statement signed by Mr Charles Othniel Abbey, the Executive Secretary of the PFM, and copied to the Ghana News Agency, said in such situations "it is the institution that suffers further dents and image".

It said the basic thing an Auditor needed to function properly was independence, therefore, it is imperative for the Auditor-General to be given the fullest independence and support by delineating his role from the board chair and other members with respect to the Audit Service Act sections 11 and 14.

The statement said "in recent past, we have not seen such a strong-willed Auditor-General who possesses the public courage and sense of urgency in pursuit of his responsibilities as we have seen with Mr Daniel Domelovo, his leadership and safeguarding the public purse is what inspires confidence within civil society groups like the PFM Network Ghana and the citizens at large".
It said such a strong personality was needed to strengthen and rebuild an institution such as the Audit Service.

The statement said efforts of the Auditor-General in safeguarding the public purse across the Metropolitan, Municipal and District Assembles leading to the uncovering of financial irregularities between 2016 and 2017 could not be overemphasized and this requires the fullest support.

It said "as we await the outcome of the Committee set up to investigate the impasse, we appeal to the President to ensure a holistic and well-grounded recommendations to not only address the Board-Management relations of the Ghana Audit Service, but also serve as guidance for other state agencies".

The PFM Network-Ghana is made up of 49 civil society organizations working in about 120 districts with 10 regional conveners across the country, to serve as a platform to create awareness and deepen citizen's knowledge in public financial management information in communities, thereby contributing to the efficient, effective and transparent management of public resources at the national and sub national levels.