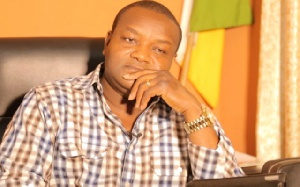 The flag bearer of the All People's Congress (APC), Hassan Ayariga, has said the Electoral Commission's credibility is in question following an Accra High court ruling nullifying the disqualification of the flag bearer of the Progressive People's Party (PPP), Dr Papa Kwesi Nduom, from contesting in the December presidential polls.
Dr Nduom was part of 13 aspirants disqualified from contesting in the elections over alleged illegalities on their nomination forms but the court on Friday October 28 ruled that the EC did not give the PPP a fair opportunity to amend mistakes on their nomination forms.

Reacting to the ruling, Mr Ayariga, who is one of the disqualified aspirants, congratulated the lawyers of the PPP and said the laws were now working.
"I think our laws are working and congratulations to the lawyers of the PPP and, of course, to the court for doing the right thing. We want to promote multiparty democracy and not to destroy multiparty democracy. I've said it that the EC must act properly because their credibility is in question now, because you have to be very careful before you pass certain laws or you disqualify certain political parties. The PPP is a serious political party, the APC is a serious political party. You cannot say because of minor issues you disqualify them," Mr Ayariga stated.

"When you make wrong decisions, it affects your credibility. …You ought to get legal advice before you go out to make certain decisions or pronouncements. That is why we have lawyers. The EC as an institution has a lawyer; they should have given them advice. How many people came to endorse the APC flag bearer? Over 3000! How many people endorsed the PPP flag bearer? Over 3000 delegates and you think they cannot get 432 people to endorse a form? ...I've been asking for justice and that is all we are seeking."