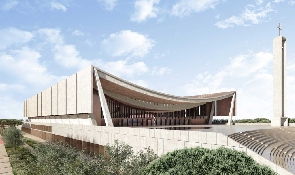 A former National Youth Organizer of the Progressive People's Party (PPP) has taken President Akufo-Addo to the cleaners over what he described as controversies surrounding the National Cathedral Project.
It is shocking, according to Divine Nkrumah, that a Cathedral meant to honour God, who hates lies, is being built on lies, controversies, and dishonesty.

The young politician who could believe what has transpired so far said it would have been worse if the president had promised to build an 'ashawo joint' or a betting centre.
"President Akugo-Addo promised to build a Cathedral for God. But if the President wants to build a cathedral and the project is characterised by lies, stealing, and corruption, imagine if he were to build an 'ashawo centre' or a gambling centre, a 'wee centre' imagine what would have happened."

According to Divine Nkrumah, the cathedral project and the issues surrounding it are alarming and unfortunate.