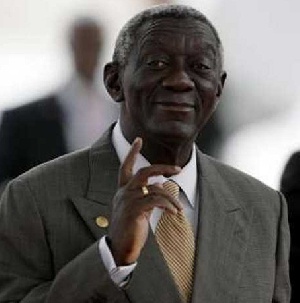 Former President John Kufuor and his family have been named among a tall list of world leaders who kept secret bank accounts through a Panamanian law firm.
The firm, Mossack Fonseca, is at the centre of huge data leak exposing the financial secrets of dozens of the world's elite. The leaked documents, known now as the Panama Papers, mentions the eldest son of former President Kufuor - John Addo Kufuor as the chief operative in a scheme controlling thousands of dollars with his mother, Theresa Kufuor as one of the known beneficiaries.

According to the report, in early 2001, shortly after the start of his father's first presidential term, Kufuor appointed Mossack Fonseca to manage The Excel 2000 Trust. Later that year, it controlled a bank account in Panama worth $75,000.

In November 2010, an employee of Mossack Fonseca's compliance office in the British Virgin Islands suggested to colleagues that "due to the apparent prevalence of corruption surrounding Mr. Kufuor we would not recommend us taking him on as a client or continuing business with him."

It has also been revealed that companies being operated by young Kufuor became inactive in 2004 and 2007, both times when Ghana was preparing for elections.
In 2012, Kufuor Jnr. asked Mossack Fonseca to close the trust. Files also connected Kufuor with BVI companies Fordiant Ltd and Stamford International Investments Group Limited. Both were registered when Kufuor's father was president of Ghana and became inactive in 2004 and 2007.

Mr. Kufuor did not respond to repeated requests for comment when investigators spoke to him.

Throughout 2005, local media in Ghana reported allegations that the former president gained lucrative government contracts, and private sector business deals through paternal connections. An official commission later found no evidence of wrongdoing.