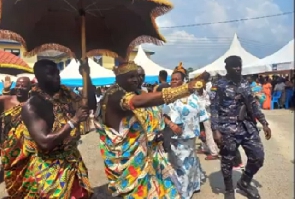 The Paramount Chief of Nkusukum Traditional Area, Okesse Essandoh IX, has rescinded the installation of Davis Mac Iyalla as the Amankorahen of Yamoransa in the Central Region.
According to Okesse Essandoh IX, he stopped the installation of Mac Iyalla as soon as he was informed that he has been supporting LGBTQI activities, 3news.com reports.

"Nana Kweku Adu has been staying in Cape Coast for over ten years and travels outside the country regularly and comes back.

"It was during the process of his installation as Amankorahene (Nkosuahene) the information came that Kweku Adu is also known as Davis Mac Iyalla and has been supporting LGBTQI+ and its related activities.

"Immediately this information came to our attention, we called for the whole process of Mac Iyalla to be halted," the chief is quoted to have told journalists at his palace on Tuesday, January 31, 2023.

The Paramount chief also explained that the title given to Davis Mac Iyalla was only ceremonial and was done for him to help with the development of Yamoransa.
"Nkosuahene is only a ceremonial position which could be bestowed on any person regardless of his lineage or linkage to any stool," he added.

It can be recalled Davis Mac Iyalla, a popular gay rights activist, fell from his palanquin during his coronation as a chief.

Davis Mac Iyalla, who was installed Amankorehene of the Yamonransa Nkusukum Traditional Area in the Central Region, over the weekend, unfortunately, fell out during a parade through the Yamonransa township.

Davis Mac Iyalla, after his installation, promised to fight for human rights and also a call for collective support to help develop the area.

The installation was done in the presence of heavy security but the public oath-taking was cancelled after meetings between the authorities and police.
Reports indicate that Iyalla was installed by the Omanhene and President of Nkusukum Traditional Area, Nana Okese Essandoh IX, under the stool name Nana Kwesi Gyasi I.

The ceremony was attended by several traditional authorities from Osu in Accra, Elmina, Mankessim and Cape Coast.

IB/DA