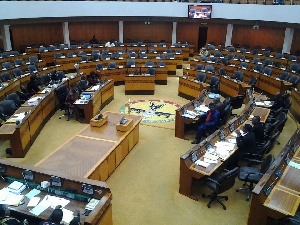 Thu, 20 Dec 2012 Source: GNA
Parliament on Wednesday approved a Mixed Credit Agreement of $19.1 million to fund critical reforms to alleviate poverty in farming communities to boost agricultural productivity to ensure food security for the country.
The mixed credit agreement comprises a financing agreement between the government of Ghana and the Arab bank for Economic Development in Africa (BADEA) for an amount of $8.6 million and an OPEC Fund for International Development (OFID) for an amount of 10.5 million dollars to finance the Integrated Rural Development Project (IRDP).

The IRDP is part of government's efforts to improve agricultural productivity under the Ghana Shared Growth and Development Agenda, 2010 to 2013.

The project is to promote integrated rural development by increasing house incomes through enhanced farming, marketing and distribution chain.

The 8.6 million BADEA loan has an interest rate of one per cent, a grace period of 10 years and a repayment period of 20 years, while the OFID 10.5 million loan attracts an interest rate of 1.5 per cent, a service charge of one per cent, a grace period of five years and a maturity period of 20 years.

Mr James Klustse Avedzi, Chairman of the Finance Committee of Parliament, who presented both agreements to the House for approval, said both agreements satisfied government's requirement for concessionary borrowing.
He said the project would benefit some 20 districts across the ten regions that have agricultural development potentials and address the high poverty rate among farmers.

Under the project, farmers would have access to credit, technology and social services, as well as reliable and ready market for their produce and the strengthening of institutional capacities.

The selected districts for the project include Ga East in the Greater Accra Region; Mfantseman and Upper Denkyira West in the Central Region; Fanteakwa and Upper Manya Krobo in the Eastern Region; Nzema East and Wassa Amenfi in Western Region; Asunafo North, Sene and Nkoranza North in the Brong Ahafo Region.

The rest are the Afigya Kwabre and Ahafo Ano South in the Ashanti Region; Bunkpurugu Yunyoo and Nanumba South in the Northern Region; Ho and Nkwanta North in the Volta Region; Talensi Nabdam and Kassena Nankana West in the Upper East Region; Sissala East and Wa West in the Upper West Region.
Source: GNA