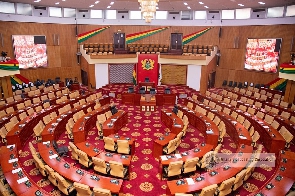 Parliament is set to kick off discussions on the 2024 Budget Statement and Economic Policy on Tuesday, November 21, 2023.
The Majority Leader in Parliament, Osei Kyei-Mensah-Bonsu, announced the schedule during the presentation of the business statement for the week on Friday, November 17, 2023, expressing the Business Committee of Parliament's anticipation of a lively, well-researched, and informed debate.

To ensure broad participation in the debate, the committee has proposed specific time allotments: 20 minutes for the Seconder and Ranking Members of the Finance Committee, 15 minutes for other committee members, and 10 minutes for all other Members of Parliament (MPs).

The debate will be structured around distinct sectors, covering governance, security, public safety, finance, economy, energy, infrastructure, social sectors, local governance, youth, sports, tourism, and culture.

The proposed timetable designates Tuesday for discussions on finance, agriculture, trade, and industry.

Wednesday will focus on communications, energy, roads, works and housing, sanitation, and environment.

Thursday's agenda includes education, health, employment, youth and sports, tourism, culture, and chieftaincy.
Finally, on Friday, governance, encompassing local government, judiciary, defense, interior, the Electoral Commission, National Commission for Civil Education, and Commission on Human Rights and Administration of Justice will take center stage of the debate.

The debate is expected to conclude on Tuesday, November 28, 2023, with extended sitting periods anticipated to facilitate the completion of parliamentary tasks before the adjournment on December 22, 2023.

The Majority Leader urged all committees to promptly address the budget estimates of various Ministries, Departments, and Agencies (MDAs) to ensure the timely consideration of the Appropriation Bill, 2023, and other crucial parliamentary matters.

Ghana's leading digital news platform, GhanaWeb, in conjunction with the Korle-Bu Teaching Hospital, is embarking on an aggressive campaign which is geared towards ensuring that parliament passes comprehensive legislation to guide organ harvesting, organ donation, and organ transplantation in the country.

NAY/AE