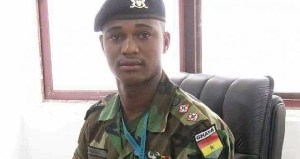 The endowment fund will see government donate in excess of 500,000 cedis to the bereaved family and also 50,000 cedis as promised by the president and some members of the general public.
This was made known by the Defence Minister, Dominic Nitiwul during a courtesy call on him by the family weeks after the soldier's burial.

"We have drafted the endowment fund bill, Major Mahama endowment fund bill, we have drafted it, it has gone to the AG, the AG has brought it back to my office, I have forwarded it to my Jack to look at it and I believe by the close of this week I'll send it back to the AG and put a cabinet memo," he revealed to the family.
Meanwhile, the family has requested to government to fast tract the establishment of a monument in honour of the late soldier at various vantage points in the country so as to put an end to the scourge of mob justice in the country.