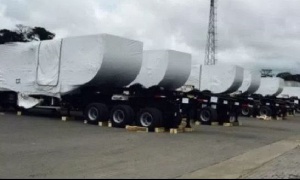 Former Power Minister Dr Kwabena Donkor has expressed a strong belief that Parliament has no locus to rescind the power deal government brokered with Africa and Middle East Resources Investment (AMERI) Group in 2015.
He said a rescission of the deal could have negative consequences on future investments in Ghana. "I think a rescission will be a disservice to Ghana," he stressed.

Dr Donkor expressed these after facing Parliament's Mines and Energy Committee over a motion for review of the deal filed by Kobina Tahir Hammond, a Ranking Member of the Committee when the deal was struck. The Adansi Asokwa Member of Parliament thinks Ghana did not get a fair deal over the $510million power agreement.

But speaking to journalists on Friday, the Pru East MP said Mr Hammond's procedure is wrong since "our Standing Orders have no place for rescission of a decision taken by another Parliament". "Our Standing Orders say you can rescind a decision in a Session and the Session is within a year." He said the intentions of KT Hammond may not be bad "but the process, in my opinion, is wrong," a conviction he has made clear to the New Patriotic Party (NPP) MP.

Emergency Vrs Normal times
He said inasmuch as the intentions are "honourable", it would have been better if it had come earlier. According to him, the emergency period when Ghana was in a "tremendous psychological hiccough" is different from the normal times of stable power and so the vitality of the deal may be relative. "It is very easy [to argue] after the emergency," he stated.

"In the midst of the emergency, what we needed was power at all cost. "The country was undergoing tremendous psychological hiccough, factories were not having enough power to keep running, businesses were shutting down because of lack of power and I believe we took the right decision at the right time." But he admitted that a review can be reached over the deal as provisions are made for contracts of that kind.

Already, Ameri has justified the deal that there was value for money for Ghana in the midst of the power crisis.