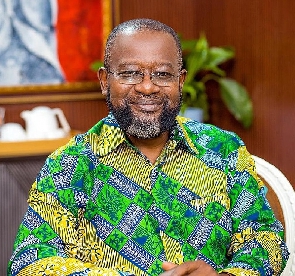 Amid suggestions by experts and politicians on how to deal with the illegal mining menace, Kwame Jantuah, a private legal practitioner, has proposed to Parliament the establishment of a commission to probe the involvement of members of parliaments in illegal mining.
His suggestion comes on the back of allegations made by Prof Frimpong-Boateng in his IMCIM report authored in 2021 citing the involvement of some NPP top officials in illegal mining or obstructing the operations of the Inter-Ministerial Commission on Illegal Mining.

Mr Jantuah, speaking to Accra based Asaase Radio, and reported by asaaseradio.com said the lawyer noted that the fight against illegal mining be done devoid of politics.

"Parliament should set up a commission to fish out every politician and MP involved in galamsey. Are they not involved in galamsey? Do we not know some of them? Who has said anything about it?," he questioned.

He added that the content of the report must be tackled without emotions and personal grievances.

"The issues in this report are real and true, and that's what we should be looking at; not looking at petty things and personal grievances," Mr Jantuah said.
Background:

Nearly a week ago, a report authored by Prof. Kwabena Frimpong-Boateng, the former Chairman of the Inter-Ministerial Committee on Illegal Mining (IMCIM) in 2021, was released containing the names of NPP officials who are allegedly hindering the fight against illegal mining.

Some of the known names mentioned in the report include the Minister for Information, Kojo Oppong-Nkrumah, Gabby Asare Otchere-Darko, Laud Commey, Joseph Quam, among others. While they have denied any wrongdoing, some alleged that Frimpong-Boateng was equally at fault.

Prof Frimpong-Boateng in his 36-page report wrote that Gabby pestered him when the IMCIM was about dislodging the Imperial Heritage.

His report recalls how Gabby Otchere-Darko, a cousin of the president and an influential member of the ruling NPP, called him on phone to question his decision to order for the dislodgment of equipment of a Mining Company Imperial Heritage which Prof. Frimpong Boateng argues was mining illegally with a prospecting license in forest reserves.
"We were ready to dislodge Imperial Heritage from Kobro Forest when Mr. Gabby Asare Otchere-Darko called to inform me that he was the lawyer for Heritage Imperial Limited, a company that was destroying the Kobro and Apaprama Forest Reserves and in the process had also polluted and diverted the course of the River Offin, as can be seen in the satellite images below. I informed the President about the behaviour of Mr. Gabby Asare Otchere-Darko and he promised to deal with it."

Gabby Asare Otchere-Darko in turn averred that the former minister had twisted the job of a lawyer to mean interference.

He has also sued Prof Frimpong-Boateng for defamation and has demanded GHȼ10m in damages.

Share your news stories and ideas with GhanaWeb


Meanwhile, watch the latest episode of People and Places on GhanaWeb TV below:





NW/ESA