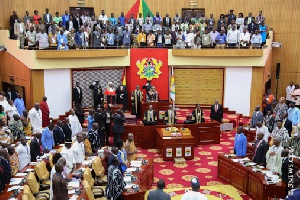 Parliament has passed the Special Prosecutor Bill making it an Act of Parliament.
The bill was passed today, Thursday, November 14, after going through the various stages of the House.

The Office of the Special Prosecutor is aimed at helping the government handle corruption-related issues among state officials in a nonpartisan manner.

Per the Act, an independent prosecutor will head the office and prosecute corruption offenses by state officers.

The bill was first introduced through a certificate of urgency in July, bringing parliamentary speed to the President's quip that he is a man in a hurry.
But it was resisted by the Constitutional, Legal Parliamentary Affairs Committee of Parliament on the basis that it did not fall within the category of Bills brought before the House under a certificate of urgency.

The Special Prosecutor's office was one of the key anti-corruption measures propagated by President Akufo-Addo while campaigning in the 2016 elections

Former Attorney General, Martin Amidu has been one of the few vociferous who has criticized parts of the Bill, suggesting that it defeats the essence of the creation of the office.