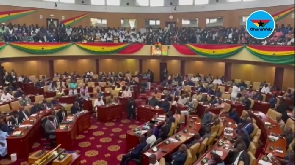 Speaker of Parliament, S. K Alban Bagbin has recalled Parliament from recess for the commencement of the 2nd Meeting of the 3rd Session of the 8th Parliament of the 4th Republic on Tuesday, 6th June 2023 in line with Order 37 of the Standing Orders of Parliament.
The notice issued in Accra dated 19th May, 2023 and signed by The Speaker to The Member of the House "hereby give notice that Second Meeting of The Third Session of the Eighth Parliament of the Fourth Republic shall commence on Tuesday, the 6th day of June 2023 at Ten O'clock in the forenoon at Parliament House, Accra".
Parliament went on recess on Friday, March 31 after a long night, approving three tax bills.