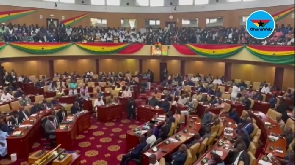 Anyimadu Antwi, the chairman of Parliament's Committee on Constitutional Legal and Parliamentary Affairs and MP for Asante Akim Central, has presented the Committee's report on the anti-LGBTQI+ bill before the august House today, Thursday, March 30, 2023.
Parliament is expected to debate the report in 23 days, after which the bill will go through its second and third readings before being passed into law.

The Committee on Constitutional, Legal, and Parliamentary Affairs received over 140 memorandums from the public on the anti-gay bill.

The Promotion of Proper Human Sexual Rights and Ghanaian Family Values Bill, 2021, which was introduced to Parliament in July 2021, received its First Reading on Monday, August 2, 2021.
The proposed legislation, which aims to protect human sexual rights and Ghanaian family values, seeks to limit LGBTQ+ communities and their activities.

Proponents of the Bill want the promotion, advocacy, funding, and acts of homosexuality to be criminalized in the country saying it is a world-class piece of legislation that should be reference material for other Parliaments seeking to pass similar legislation.