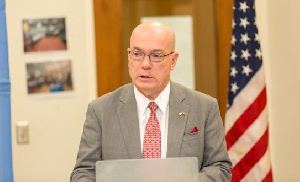 A ranking member of the Foreign Affairs committee in Parliament, Samuel Okudzeto Ablakwa has stated that the Minority in Parliament is likely to summon the US Ambassador to Ghana, Robert Jackson over the abuse of Ghanaian deportees.
The North Tongu MP added that the Minister of Foreign Affairs will also be hauled before Parliament when the US Ambassador is summoned, to explain plans to restrict visas to Ghanaians following the failure of the government to issue travel documents to some Ghanaian nationals awaiting deportation from the US.

According to Samuel Okudzeto Ablakwa, when the two are summoned it will allow the Foreign Affairs Minister, Shirley Ayorkor Botchway and US Ambassador Robert Jackson to brief Parliament on the developments.

"Certainly the Minority in Parliament will in the coming days request that the Foreign Minister apprise Parliament on these developments. The Foreign Affairs Committee may also consider a second invitation to the U.S. Ambassador seeing that the related issue about the alleged dehumanizing mode of deportation when the Ambassador last appeared before us remains largely unresolved," Samuel Okudzeto Ablakwa stated in a Facebook post.

The statement from the NDC MP comes on back of a recent from the US Embassy in Ghana that, the U.S government will soon impose visa restrictions on Ghanaian citizens.

This is because the U.S government says Ghana government was not complying with international obligations regarding the issuance of travel documents to Ghanaians awaiting deportation in the USA.
However, the NDC MP said the statement from the Embassy is Curious and that he is hoping that the recent demonstrations and fierce resistance by Ghanaians to the Ghana-US Defence Cooperation Agreement are not a precipitating factor for this hard-line stance.