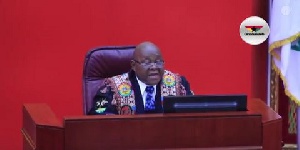 A political science lecturer at the Kwame Nkrumah University of Science and Technology (KNUST) Mohammed Abass, has described boycott of parliamentary proceedings by Members of Parliament as childish.
According to him, the country has reached a stage where institutions such as parliament mandated to perform certain key duties must move away from needless actions of this kind.

His comments follow the Minority's decision to stage a walk-out during deliberations on the controversial Ameri power deal on Tuesday, 1 August 2017.

The walk-out followed concerns raised by the Minority that they were being gagged and prevented from making contributions on the floor.

They accused the Speaker Prof Mike Oquaye of muzzling them, thus they had no alternative but to walk out as a sign of protest, Class91.3FM's parliamentary correspondent Ekow Annan reported.

Minority Leader Haruna Iddrisu accused Prof Oquaye of being a threat to democracy in parliament.
Speaking on this in an interview with Accra News on Wednesday August 2, Mr Abass noted that walk-outs in parliament by legislators have existed since the days of former President Jerry John Rawlings but such actions have not helped the country in any way.

For this reason, he has appealed to the lawmakers to adopt other means of demonstrating their frustrations other than boycotts because it doesn't help anyone.

"Boycotts in parliament over the years have been like a child's play and this started during former Presidents Rawlings' time. I think the time has come for us as a nation to move away from that because it doesn't serve anybody's interest," he stated.