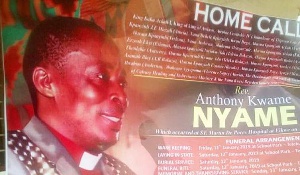 The death of a pastor of Cross of Calvary Healing and Deliverance Ministry in Teleku-Bokazo in the Ellembelle District of the Western Region has left many in wonder after they heard death threats issued on radio by a man he was fighting over land with.
Reverend Anthony Kwame Nyame died exactly five days after one Samuel Erzoah was heard on radio spuing a death threat.

The two were said to be fighting over a land at Teleku-Bokazo.

But there was a heated exchange between them on West End Radio on October 7, 2018, when they were hosted on air over the matter.

Checks by 3news.com indicated that during the exchanges, Mr. Erzoah, who is a worker at Ghana Gas Company in Atuabo, threatened that if the pastor does not kill him, he will do it.
On October 12, 2018, Rev Kwame Nyame lost his life.

This has led to many pointing accusing fingers at Mr. Erzoah.

But the matter is said to be under investigation by the District Police Command.

Rev. Nyame will be buried on January 12, 2019, at Teleku-Bokazo.