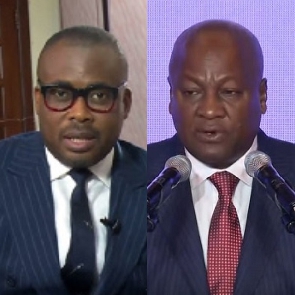 Broadcaster Paul Adom-Otchere has taken a swipe at former President John Dramani Mahama and his party, the NDC, over the Supreme Court ruling that President Akufo-Addo's directive for former Auditor-General Daniel Yao Domelevo to proceed on forced leave in 2020 was unconstitutional.
According to him, the former president and members of the National Democratic Congress (NDC) have continuously berated the justices of the Supreme Court in the past but are now silent on the court's ruling on Domelevo.

Speaking on his Good Evening Ghana programme on Thursday, June 2, 2023, Adom-Otchere, the board chairman of the Ghana Airport Company, accused the NDC of tarnishing the court's image whenever a ruling does not go in their favour.

"The NDC seems too quiet for anybody's liking because, you see, these are the things we do as politicians. When a ruling comes from a court, we must be careful.

"But we have given these judges so many names… when you lose, you lose, and when you win, you win. And you keep the sanctity of the authority of the Supreme Court intact; that is how we are building a society. Supreme Court is not Anim Yeboah; it is the Supreme Court of Ghana. Supreme Court is not Justice Torkornoo; it is the Supreme Court of Ghana.

"So, we have to build the institutions, and political parties should not have that effrontery all the time generating a narrative to pull done institutions just because they lost a case," he said.
He played a video of Mahama, the NDC presidential candidate for the 2024 elections, criticising the Supreme Court for its recent rulings and describing the court as the "Unanimous FC".

Adom-Otchere said that the NDC should issue a statement on the ruling of the Domelevo case just like it has done in previous judgements.

Background:

Ghana's apex court, the Supreme Court, declared as unconstitutional the directive by President Nana Addo Dankwa Akufo-Addo, in 2020 for the former Auditor-General, Daniel Yao Demelevo, to proceed on forced leave.

As can be recalled, the president, in a letter dated June 29, 2020, and signed by the Director of Communications at the Presidency, Eugene Arhin, the former A-G, was directed to take his accumulated leave.
The statement added that "The president's decision to direct Mr Domelevo to take his accumulated leave is based on sections 20(1) and 31 of the Labour Act, 2003 (Act 651), which apply to all workers, including public office holders such as the Auditor-General."

But after hearing a case brought before it by the Centre for Democratic Development (CDD) and eight other Civil Society Organizations (CSOs) who described the move as an affront to the independence of the office, the Supreme Court has ruled that the move was unconstitutional.

According to a report by citinewsroom.com, the decision by President Nana Addo Dankwa Akufo-Addo to Daniel Yao Domelevo in 2020 to take his 169 working days of accumulated leave was null and void.

Watch Paul Adom Otchere's remarks in the video below:


Meanwhile, watch a snippet of GhanaWeb TV's latest program that focuses mainly on Everyday People below:





You can also watch the latest episode of People & Places on GhanaWeb TV:




IB/SEA