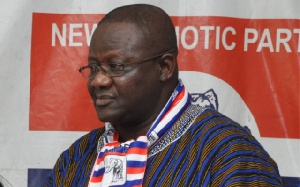 The suspended National Chairman of the New Patriotic Party (NPP), Paul Afoko, supported the NPP to ensure that the party won the presidential and parliamentary elections, Nana Yaw Osei, spokesperson of Mr Afoko, has said.
According to him, some of the party's parliamentary candidates sought the support of Mr Afoko, which he willingly offered, hence the victory of the NPP could not have been chalked without Mr Afoko.

His comments follow calls by a leading member of the NPP, George Ayisi Boateng, that Mr Afoko should show contrition in order to get a route back into the party.

Mr Ayisi Boateng made the call to the suspended chairman while speaking in an interview with Chief Jerry Forson, host of Ghana Yensom, on Accra 100.5FM on Tuesday December 13.
But responding to this assertion in an interview with Emefa Apawu on Class 91.3FM's 505 on Friday December 16, Mr Osei said: "If anybody should say that the victory of the NPP in the December 7 presidential and parliamentary elections was without the contribution of Mr Paul Afoko, then that…person who has that opinion obviously doesn't know what he is talking about. "[Mr Afoko] supported the campaign and some parliamentary candidates came to him for help. I need not mention their names, and so support for the campaign came in different forms from different people.

"So let me say that if anybody should come out there to state that the victory came without [the involvement of] Mr Afoko, then that person doesn't know what he is talking about. There are a lot of people who helped the party but do not boast about it, thousands of people offered help."