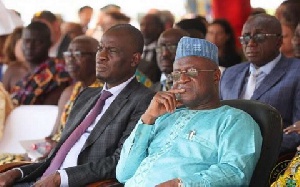 The Association of Members of Parliament Chauffeurs of Ghana, has petitioned the leadership of parliament to improve their conditions of service.
The drivers, who are unhappy about their salaries, want parliament to increase their remuneration and allowances paid them on public holidays. They are also demanding a collective bargaining agreement as well as policies that ensure their exposure to risks and hazards is reduced.

In a petition, the drivers complained about their "meagre" GHS400 salary as well as the nonpayment of their Social Security and National Insurance Trust (SSNIT) contributions. They also said their jobs are also not secure.

The petition, signed by the General Secretary of the Association, Farouk Abdul-Aziz, said: "Our terms of engagement by our employers, Honourable Members of Parliament, has largely been oral without any rules of engagement, which makes our bosses use their discretion to pay us a meagre amount of GHS 400.00 as monthly salary.
The drivers said their remunerations are subject to, and enshrined in the Labour Act, 2003, Act 651 section 67, and, thus, pleaded for an increase in their salaries "which we believe can help us survive in the economy."

The petition added: "Our services with our employers are not secure to the manner of our engagement. We are hired and fired at the MPs own discretion, we hope and plead with your outfit to help streamline it including payment of our Social Security and National Insurance Trust [contributions] which are not being paid."