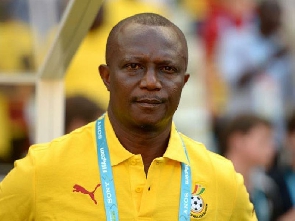 Former Black Stars captain, James Kwasi Appiah has disagreed with the popular opinion that the art of taking successful penalties is purely based on science.
From being eliminated on penalties at the 2010 FIFA World Cup and twice losing the AFCON to Ivory Coast on penalties (1992 & 2015), Ghanaians have suffered various degrees of football heartbreaks all down to the Black Stars inability to win penalty shootouts.

The problem according to many is due to Ghana's inability to practice penalties at the juvenile level in order to perfect the art at the senior level.

However, Kwasi Appiah was manager when Ghana lost in the semi-finals of the 2013 AFCON to Burkina Faso has said that penalty shootout is not science but depends on the confidence level of the player who is taking the shot.

"It is not science. A player can be very good but when it comes to the time for you to go for the kick, it depends on your confidence level.
"When your confidence level is not that high, when you get to the spot kick and the keeper shakes himself and you miss it, no matter who you are," Kwasi Appiah said in an interview with JoyNews.

Ghana's last penalty shootout in the AFCON ended in defeat to Tunisia in the 2019 edition in Egypt.

JE/SARA