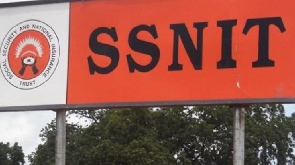 Management of the Social Security and National Insurance Trust (SSNIT) says it is determined to help pensioners get their rightful benefits under the scheme to enable them live well.
Board Chairman of SSNIT, Dr Kwame Addo-Kufuor, who gave the assurance, believes it is nothing short of a scandal that the benefits of some pensioners cannot offer them good health and quality living in the country.

He has therefore assured the public of the commitment of the management of SSNIT to ensure continued improvement and regular reviews of the governance arrangements to make sure that pensioners receive the full support they are entitled to.

Speaking at a presentation of GH¢500,000 by SSNIT to the National Pensioners Association (NPA) in support of the association's medical scheme for its members, Dr Addo-Kufuor stated that the money is in fulfillment of a promise made last year by management of SSNIT.

According to him, the new board and management of SSNIT, upon assumption of office in March 2017, pledged to prioritize the welfare of pensioners.

The SSNIT board chairman said "the latest donation brings to GH¢800,000, the total amount of support given to the mutual medical scheme of pensioners in the country."
He revealed that SSNIT supported the scheme with GH¢300,000 in 2017 to cover medical needs of NPA members across the country in illnesses, including eye and optical care for glaucoma, cataract procedures and spectacles subsidies.

Dr Addo-Kufuor said urological and gynaecological conditions which include diagnosis, treatment, medication for ovarian, cervical and prostate cancer, and purchase of drugs not covered by the National Health Insurance Scheme were expected to be taken care of by the fund.

General Secretary of NPA, Edward Ameyibor, who expressed gratitude to SSNIT management, had earlier lamented that pensioners spent substantial quantity of their resources to buy drugs in order to maintain good health.

"So when we have people who sympathize with us and contribute such large sums [of money] to support our Mutual Health Scheme – Pensioners Medical Scheme, we can only say a loud thank you and pray that God replenishes your coffers …" he asserted.