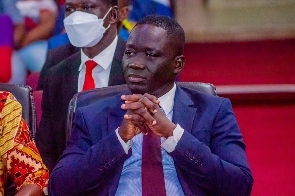 Reverend John Cato, a resident pastor at Charismatic Evangelist Ministry (CEM), has lamented that the very people pastors provide marriage counselling to, contribute to the reasons for them not being able to spend time with their family but these people are the ones that judge them when they have issues in their marriages.
Pastors, aside from preaching and evangelism, are also known to be marriage counsellors who people ran to, seeking for advice on how to make their marriages work and or manage their marital homes.

Also, because of the nature of their jobs, they are unable to have time for their families, which sometimes brings problems in their various marriages.

Speaking to Patricia Rockson Hammond, the host of GhanaWeb's Moans & Cuddles, Rev Cato was questioned about how as a pastor, he manages to have time for his family when he is always away from home.

In his response, he said: "The same people who will engage you and get you to be there for them, are the same people to judge you as to how you are managing and handling your home, so you have to balance it."

Rev. John Cato went ahead to give some tips on how pastors can have quality time with their families.

"There are things you know; you can give it some time. There are things that are not a life and death situation, there are things that you can also delegate other people to stand in for you, so you spend time with your family.
"So, you must balance it, you must plan it. It's not every call you receive that you will run. There are certain challenges you can get solutions for just being on the phone.

"You can make one or two calls, and then the solution is gotten. And then, you will spend time with your family," he explained.

Meanwhile, you can watch the latest episode of Moans & Cuddles on GhanaWeb TV below:





ED/DA