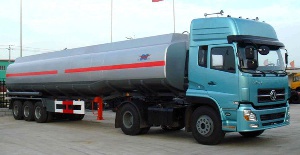 Petroleum tanker drivers have threatened to withdraw their services starting Monday until the National Petroleum Authority (NPA) addresses their concerns.
The drivers have raised concerns about their working conditions and welfare, which they say have been ignored for many months now.

According to them, the only reason for them to return to work was for the NPA to ensure the full implementation of the Petroleum Producers Transportation Delivery Retail and Loss Control manual, which was formulated by the Energy Commission in 2004.

They have explained that not implementing the guidelines stipulated in the manual was having dire consequences on them, as their salaries and remunerations are not paid by transporters.

In a letter dated May 9, 2018, to the Ministry of Energy, the drivers urged government to ensure that all filling stations implement the guidelines; and gave an ultimatum following which will not move their vehicles.

"In our meeting with the President at the Jubilee House on August 16, 2017, we were directed by President Nana Addo Dankwa Akufo-Addo to meet you [Minister] to resolve the underground shortage delivery at filling stations and also the flow metre used at Bulk Oil Storage Transport (BOST).

"Secondly, as regards our salary and remuneration, Mr. Minister, several letters had been sent to your office without response. We hereby give you an ultimatum of seven days to address our grievances, else we'll advise ourselves." the later stated.
The Ministry in response directed the NPA to ensure that the concerns of the drivers are addressed.

But in a radio interview with Accra based Joy FM, Chairman of the Ghana National Petroleum Tanker Drivers Union, Mr George Teye Nyauno said the directive is yet to be implemented.

He noted that tanker drivers in the country are being treated unfairly. "We are not under slave trade in this country again. So I don't see why tanker drivers should be treated unfairly. That is why we think this is the time for us to put our tools down quietly and let's see whether petroleum will flow to the nation".

"... because we respect them so much, they have taken us for granted so enough is enough. What I am saying is from Monday, the action that they are going to see from Monday, will not be like the previous one again".

He added that they are being cheated although they are ready to serve the nation, "so whenever they are coming to us, they should make sure they are coming to us with what we have agreed. We are ready to serve the nation but they are cheating us"