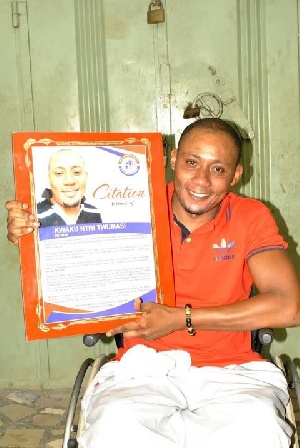 A physically challenged graduate of the Kwame Nkrumah University of Science and Technology (KNUST), who has defied all odds – creating jobs and changing the lives of many, has been recognized with an award.
Kwaku Ntim Twumasi, popularly known as "NTK", employs in excess of 100 people and has been adjudged the "2017 National Young Male Disability Entrepreneur".

This was at the national young entrepreneurs awards ceremony held at the British Council Hall in Accra.

The event is held annually by the Youth Business Network Foundation to recognize outstanding young people into business.

It forms part of an aggressive push to get many of the nation's youth to act boldly to establish their own businesses to bring down the high unemployment among them.
Mr. Twumasi, confined to a wheelchair because of a road crash, is engaged in aluminum fabrication. Additionally, he has been dealing in building materials and heavy duty equipment.

He is also the Chairman of Superstep Ghana Limited, which has been producing quality shoes and leather boots.

Speaking to journalists after he had received the award said he was thrilled and that it would only motivate him to continue to work hard and with passion to support the growth of the economy.