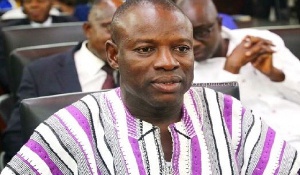 Northern Regional Minister, Salifu Saeed, has issued a stern warning to the residents of Nakpachie in the Yendi Municipality to allow peace to prevail in the area or face the wrath of the law.
The Chairman of the Northern Regional Security Council (REGSEC) said the government is not going to allow any individual or group of people to disturb the peace of the area.

He noted that law enforcement personnel will deal with individuals or groups who want to take the law into their own hands and cause mayhem.

"We are not going to sit down for people, civilians or any community; if we hear that in any community there is a gunshot, we are coming as security to deal with them, we will beat the people and deal with them because we will not like the conflict to spread beyond them," he said in response to the recent Konkomba-Dagomba bloody clash that resulted in one death and several injuries.

Mr Saeed assured the people that the government will do everything possible to avert any ethnic or communal clashes.

A Dagomba farmer shot and killed a pig belonging to a Konkomba man. The stray pigs destroyed the Dagomba man's maize farm and this got him infuriated leading to the shooting of one of the pigs.
However, the issue degenerated into a tribal conflict after the Konkomba man confronted the Dagomba man.

The Chief Imam of the Dagomba village was shot dead and others sustained various degrees of injuries, several houses were also torched.

The Yendi Divisional Police Command subsequently arrested two suspects and put them before the Yendi District Court where they were remanded in prison custody.

The REGSEC Chairman, upon a fact-finding mission to the community on Friday, 9 November 2018, appealed to the people to cease fire. He encouraged them to channel their energies into productive endeavours.

He also urged the people to take advantage of the government's flagship programmes to transform their lives.
"No more tribal conflicts in Northern Region. His Excellency Nana Akufo-Addo has come with policies that are even favouring the tribes; especially, we the Konkombas, Dagombas, Nanumbas, Baasari people, we are here as farmers, and the Planting for Food and Jobs, alone is good for us."

"So, please let's take advantage of that. Our children are now going to free Senior High Schools, we don't go to sell our yams prematurely when the prices of yams are not even good or the prices of our foodstuff are not good; we don't sell them to pay our children's school fees because education is free now."

"So, we have to stay back and have peace of mind and expand our farms and make more money to live a good life," he stressed.