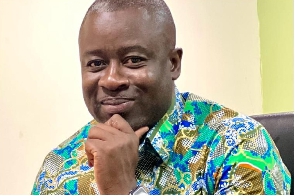 Members of the Minority on Parliament's Committee on Food, Agriculture and Cocoa Affairs have described the recently launched phase II of the government's Planting for Food and Jobs initiative as yet another avenue to squander state resources.
According to the Minority members, the entire phase one of the project initiated by the current government was nothing short of failure in ensuring food security in the country.

"The president launched Planting for Food and Jobs Phase 2 in Tamale two days ago. This was after the minster responsible for finance informed us through his midyear budget to parliament in July 2023 that planting for food and jobs (PFJ) program had ended since December 2022. This a clear admission of our position that the PFJ program had failed and that it was a mere state resource looting platform disguised as a flagship program," the group said in a statement.

President Nana Addo Dankwa Akufo-Addo on Monday, August 28, 2023, launched a phase two of PFJ at Tamale in the Northern Region.

Speaking at the launch, President Akufo-Addo said the second phase, by design, "takes a holistic view and places greater emphasis on value chain approaches by focusing on strengthening linkages between actors along eleven selected agricultural commodity value chains broadly categorised into grains, roots and tuber, vegetables and poultry."

The phase II of the programme, the president added, also seeks to improve service delivery to maximise impact and substitute direct input subsidy with smart agricultural financial support in the form of comprehensive input credit, with provision for in-kind payment.
He explained that key elements of the new phase would also include an input credit system that would provide farmers with access to inputs such as seeds, fertilisers and pesticides, and other support services to improve productivity, as well as, storage infrastructure and distribution of produce to reduce post-harvest losses.

However, according to the Minority, the failures of phase one of PFJ casts a glooming picture on the future of the phase two.

"Clearly, there is nothing special about PFJ Phase 2.0. It's just a way of telling us government can no longer support input subsidy and that farmers will be left in the hands of private commercial entities to negotiate and transact their own production input regimes based on market determinant," the caucus noted.

Read the full statement by the minority below:


Click here to start the nomination process for the 2023 GhanaWeb Excellence Awards

Ghana's leading digital news platform, GhanaWeb, in conjunction with the Korle-Bu Teaching Hospital, is embarking on an aggressive campaign which is geared towards ensuring that parliament passes comprehensive legislation to guide organ harvesting, organ donation, and organ transplantation in the country.

Watch Mintah Akandoh's call for legislation on organ transplantation on The Lowdown:




Watch the launch of the 2023 GhanaWeb Excellence Awards on GhanaWeb TV below:





Share your news stories and ideas with GhanaWeb


To advertise with GhanaWeb