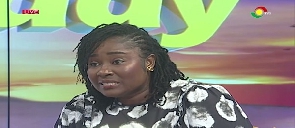 A member of the National Democratic Congress' communication team, Margaret Ansei, has declared the ruling NPP's Planting for Food and Jobs (PFJ) initiative empty as there are no results or impacts of it on the country's economy.
The NDC communicator expressed that there is no evidence of the mass food production the PFJ initiative is supposed to churn out in our markets.

Margaret Ansei also added that due to the lack of more production of goods or food, the money of many Ghanaians is chasing only a few goods in the markets, hence the extreme drop in quantities of goods that used to be bought and served with and at certain values.

Margaret Ansei was speaking on a TV3 Newday panel on June 15, 2023.

"Planting for Food and Jobs, yes, the slogan is there. It has the name but the effect; Nana are you feeling it?" she asked one of the panellists.

"At a point, the minister [former agric minister, Owusu Akoto Afriyie] led an initiative where the goods were being sold at the ministry. I don't know how it ended because that couldn't have solved the problem.
"If there is more production; the simple Economics that we were in maybe secondary school or university; demand and supply… If there is excess demand and the supply is limited, what happens? If plenty money is chasing few goods, what happens?" she quizzed.

She also added, "The economy is in my pocket as Dr. Bawumia said and the tomato that I used to buy at 5 cedis, now if I want to buy tomatoes 10 cedis, they will count three pieces and put them in my hand.

"So, for the Planting for Food and Jobs, I think it's one of their slogans but nothing for me."

The Planting for Food and Jobs programme is a flagship agricultural campaign of the Akufo-Addo administration, with five implementation modules.

The first module of the PFJ (Crops), which was launched in 2017, aims to promote food security and immediate availability of selected food crops on the market and also provide jobs.
The other modules under the programme are Planting for Export and Rural Development (PERD); Greenhouse Technology Villages (3 Villages); Rearing for Food and Jobs (RFJ) and Agricultural Mechanization Services (AMSECs).


Planting for foods and jobs is just a slogan by the NPP, the initiative has had no impact - Margaret Ansei#TV3NewDay pic.twitter.com/2sicuTj5BZ

— #TV3GH (@tv3_ghana) June 15, 2023
Watch the latest episode of The Lowdown on GhanaWeb TV
You can also watch the latest episode of People & Places here:





ABJ/WA