General News Sun, 28 Oct 2018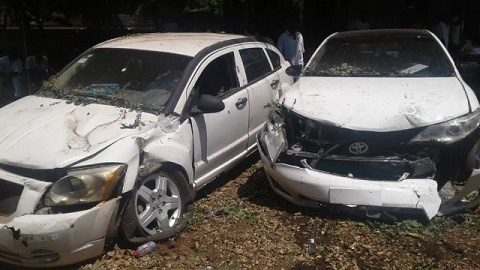 The Police Service has promised compensation for garage owners whose vehicles were damaged by a police crowd control vehicle in Dzorwulu in Accra.
More than a dozen cars are wrecked beyond repair after a Formed Police Unit armoured vehicle rammed into a garage where the cars were parked, after the driver reportedly lost control while speeding from the Accra Girls Senior High School to Dzorwulu.

Four people (including the driver) were injured in the crash and are currently receiving treatment.
The Greater Accra MTTD Commander ACP Anderson Ackah disclosed that investigations have started into the incident.

"…Since the Deputy IGP has visited them mine will just be a follow up. They've identified their various vehicles to us, so I've asked them that on Monday they should come to the Central MTTD with the various documents covering the individual cars for us to start to know who actually owns that vehicle and give statement to that effect."