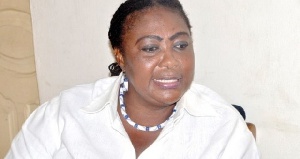 At least three unemployed nurses sustained injuries when armed policemen launched an attack on them on Tuesday at the Health Ministry for hooting at a deputy Health Minister, Tina Mensah.
The incident occurred as the officers tried to whisk the deputy Health Minister out of the office premises after failing to give audience to the aggrieved nurses, who have been picketing there since Monday, May 28 over the issuance of their financial clearance.

The groups comprise of Ghana Nursing and Midwives Trainees Association (GNMTA), Physician Assistant Students Association of Ghana (PASSAG), Coalition of Degree Allied Health Professionals and Coalition of Unposted Allied Health Professionals.

XYZ News' Kenneth Awotwe Darko described the scene as chaotic as police officers numbering about 20 used tasers and other means to disperse them.

One of the nurses, Sophia Cudjoe who reportedly sustained a cut on her left cheek from one of the police officers told XYZ News: "one of them held my colleague and I just asked what the problem was. Before I could say jack, four police men surrounded me, One hit me on my cheek with a stick, the other smacked my shoulder."
Another nurse, Rexford Ofori Nti said "they used the shockers and used their gun to hit some of us and slapped us. We are not armed, we did not beat anyone but Tina Mensah ordered them to beat us', he said as he showed his swollen arm.

But after the incident President of the Ghana Nurses and Midwives Trainee Association, Batiah Semi Ulah Santi who described the police action as unprofessional pledged to seek justice for his members.

"We will seek for justice because this is just unlawful. The police acted unprofessionally by assaulting our people", he said.