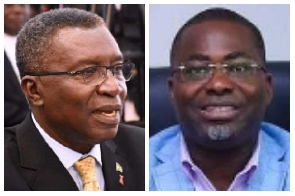 Charles Bissiw, a former secretary to the Inter-Ministerial Committee on Illegal Mining, has alleged that Prof. Kwabena Frimpong-Boateng, former Minister of Environment, Science, and Technology, has been declared a suspect twice in investigations into the menace of illegal small-scale mining (galamsey).
According to him, Prof. Frimpong-Boateng was declared a suspect because he was the one who distributed galamsey equipment seized (excavators) by the government that went missing in 2020.

Speaking in an interview on Neat FM on Monday, monitored by GhanaWeb, Bissiw added that Prof Frimpong-Boateng reported the issue of the missing excavators to the Ghana Police Service, and he became a suspect after the investigations into the matter.

"Prof knows the truth about this issue (the missing excavators) but he has let Ghana down. Prof reported this issue to the police, and I went to the CID to present my statement for their investigations. At the end of the day, Prof became a suspect.

"Ask him whether he responded to the invitation of the police. He, also, reported a case to the BNI (Bureau of National Investigations), and at the end of the day, he become a suspect. Ask him if he did not sack the officers of the BNI who came to interrogate him about the missing excavators," he said in Twi.

He added that Prof. Frimpong Boateng has all the details about the persons behind the missing excavators, and he has let the country down by failing to tell Ghanaians the whole truth on the matter.

Charles Bissue, however, noted that the recent detail given on the number of excavators that went missing by the former science and technology minister, in an interview on the state broadcaster, GBC, is the truth.
Speaking in an exclusive interview on March 10, 2023, with GBC News, Prof. Frimpong Boateng, a renowned surgeon, refuted assertions that the number of excavators that went missing in 2020, when he was minister, was 500.

"No 500 excavators went messing, it was somebody who threw that into the media space to tag something of Frimpong Boateng. What am I doing with 500 excavators?" he questioned.

According to him, the anti-galamsey taskforce seized between 150 and 200 excavators.

"When we went round, I think we got about 150, 200 that you could see. The rest had either been given to the owners or put in extra parts and moved away. And somebody put it out there, Frimpong Boateng has taken 500 excavators, what am I going to do with them? There was an orchestrating scheme even within the party and government to get you out," he said.

Watch Charles Bissiw's interview below:


Meanwhile, catch up on the concluding part of Francis Addai-Nimoh's interview on GhanaWeb TV below:



You can also watch this episode of People & Places here:



IB/OGB