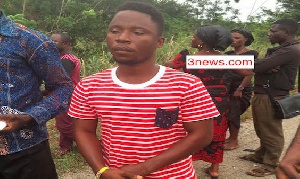 The Police in Apam are asking the man who crashed his car into the vice presidential convoy on Saturday, to provide something substantial as surety before he can be granted bail, barely 48 hours after his arrest.
Per Article 14(3)(b) of Ghana's constitution, persons arrested or detained on suspicion of criminal offence are required to be put before court within 48 hours, but the Police say they are still investigating the accident which left four persons with minor injuries.

The Police say they are working around the clock to grant bail to the 29-year old unemployed, Clement Atsu, but have asked him to provide something valuable like a house or property before he is released.

If he is able to post the police bail, he will be required to report to the Apam Police twice a week until investigation is completed and arraigned on a charge.

Atsu who was driving an unregistered Daewoo saloon car, is said to have failed to heed to the signal of the veep's motorcade, and crashed into one of the black SUV V8 vehicles causing it to summersault before it rolled and landed upside down in the bush.
The vehicle is the back up for the vice president Kwesi Amissah-Arthur.

Two journalists from Radio Gold and the Ghana Broadcasting Corporation together with some security detail of the veep who were in that car at the time of the accident sustained injuries.

They had minor cuts while some complained of pains but were immediately given first aid by the vice presidential ambulance in the convoy.

They have since their return to Accra reported to the 37 Military Hospital for medical attention. Meanwhile, the Police have been tight-lipped on the charge to be preferred against Atsu.