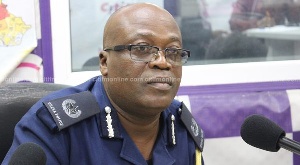 The police command is investigating one of its own, who extorted money from a civilian by forcibly withdrawing money from his Mobile Money wallet at Sowutuom in Accra.
The victim, a Corporate Marketer, who narrated his ordeal to Moro Awudu on the Executive Breakfast Show (EBS) on Class91.3FM last week, said after the publication, the Director-General of Public Affairs of the Ghana Police Service, ACP David Eklu, took up the matter and has launched investigations into it.

The victim said ACP Eklu invited him over for a meeting at the police headquarters, where he apologised to him over the conduct of the said police officer.

ACP Eklu also gave him a letter and ordered three other officers to accompany the victim to the Police Intelligence and Professional Standards Bureau (PIPS), to lodge a complaint.

According to the victim, the officers also escorted him to the Sowutuom Police Station where the "rogue" officer committed the extortion, only to be told the said officer was not stationed there. However, the other policemen confirmed the victim's story.

The victim told Moro Awudu the said policeman had been invited for questioning and was confident he would get justice.

The victim believes if the said policeman is punished, it would serve as "deterrent" to other policemen who use their uniform to abuse and bully civilians.
Background

The victim said on Monday, 8 October 2018, he witnessed a car crash between a Sprinter bus and a Hyundai Atos between 9 pm and 10 pm.

According to him, onlookers claimed the 'trotro' driver was high on tramadol and alcohol, and, so, he decided to video the accident on his mobile phone.

While recording, a policeman approached him and seized his phone. Although he begged the law officer to return the phone and promised to delete the video, the policeman threatened to hit him with his rifle if he begged any further.

The policeman ordered him to follow him to the Sowutuom police station if he needed his phone back.

The victim, who said he did not want to be seen in a police vehicle, said he took a taxi to the station.
When he arrived at the station, the policeman asked him to pay half the price of the phone to him before he gives it back.

According to the victim, the phone cost GHS600 but he could not afford to pay GHS300 to the policeman.

The policeman then demanded his password, went through his phone and noticed he had registered for mobile money.

The cop demanded his pin and withdrew an amount of GHS190 out of the total GHS201 he had in his mobile money wallet before handing the phone over to him.